Computing cluster
In September 2019, the Institutes of Technical Chemistry, Physical Chemistry, the Computing Center of Clausthal University of Technology and the Simulation Science Center Clausthal-Göttingen jointly put into operation a computing cluster that is available to all scientists at Clausthal University of Technology and members of the SWZ for research questions.
The computing cluster consists of four nodes. The four computing nodes are 2-socket systems, each equipped with two AMD Epyc processors. Thus each node has 32 or 64 physical processor cores. Three of the systems are equipped with 1 TB RAM each, one system has 512 GB.
One of the nodes is freely accessible for all employees and students of TU Clausthal without further activation. The other three nodes require explicit activation (see contact details below). A separate application for computing time is not necessary for the use of the computing cluster.
In general, any scientific software, which is either available as a campus license at Clausthal University of Technology or is generally open source, can be installed on the computing cluster. The following programs are already available on the system (although this list does not claim to be complete):
Abaqus
Ansys
Java
Mathematica
MatLab
Anaconda
OpenMPI
Singularity
Chemie, Simulationswissenschaftliches Zentrum und Rechenzentrum nutzen gemeinsam leistungsstarken zentralen Rechenserver
Bei Digitalisierung ist oftmals von einem Querschnittsthema die Rede, für das an Universitäten Synergien genutzt werden sollen. Wie so etwas aussehen kann, zeigt ein Gemeinschaftsprojekt, das von dem Institut für Technische Chemie und dem Simulationswissenschaftlichen Zentrum (SWZ) an der TU Clausthal initiiert worden ist. Ein halbes Dutzend Institute und Einrichtungen nutzen mittlerweile im Verbund einen leistungsstarken zentralen Compute-Server. Weitere Nutzer sind im gerade gestarteten Verbund willkommen. [...]
Vollständige Meldung siehe: TU-Homepage
Leistungsstarker zentraler Rechenserver konnte dank finanzieller Mittel aus dem neuen Sonderforschungsbereich "Sauerstofffreie Produktion" aufgerüstet werden.
Vor einem Jahr haben zwei chemische Institute der TU Clausthal, das Simulationswissenschaftliche Zentrum Clausthal-Göttingen (SWZ) und das Rechenzentrum in einem Gemeinschaftsprojekt einen neuen Rechencluster in Betrieb genommen. Inzwischen sind mehr als ein halbes Dutzend Einrichtungen daran beteiligt und der Verbund-CPU-Cluster ist in puncto Leistung bzw. Geschwindigkeit um einen vierten Rechenknoten mit zwei Beschleunigerkarten (GPU und FPGA) ausgebaut worden. [...]
Vollständige Meldung siehe: TU-Homepage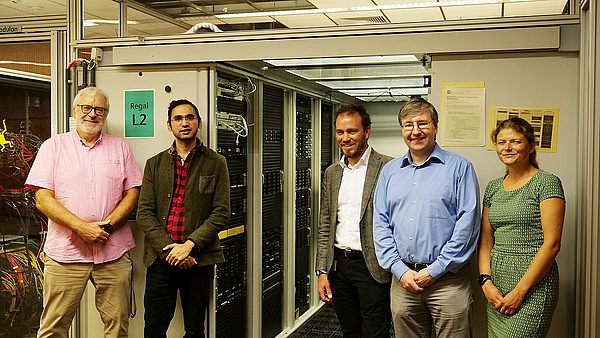 Zentraler Rechencluster ist mit Mitteln des Simulationswissenschaftlichen Zentrums Clausthal-Göttingen um eine NVIDIA A100 erweitert worden

Deep Learning ist eine spezielle Methode zur Informationsverarbeitung und wird mittlerweile in zahlreichen Fachgebieten zur Analyse großer Datensätze benötigt. Umfangreiche Datenmengen werden zunächst von Algorithmen extrahiert, anschließend analysiert, um dann eine Schlussfolgerung oder Prognose über eine bestimmte Fragestellung abzuleiten. Das Erkennen von Mustern oder Dingen auf 2D-Bildern oder 3D-Umgebungen, das Verständnis von Texten oder die Optimierung von Entscheidungsprozessen stellen nur eine Auswahl von potentiellen Möglichkeiten der Methode dar. Ein typisches Beispiel ist die Fragestellung, ob sich ein bestimmtes Objekt wie eine Katze auf einem Foto befindet. Diese für einen Menschen triviale Aufgabe stellte ein Computerprogramm bis vor wenigen Jahren vor eine nahezu unlösbare Herausforderung. Erst als Rechner in die Lage versetzt wurden, automatisiert aus großen Datenmengen zu lernen, konnten sie diese Aufgaben mit hoher Zuverlässigkeit lösen. Für das Erkennen eines Objektes müssen viele fachspezifische Informationen wie das Aussehen aus unterschiedlichen Perspektiven oder das Farb- oder Größenspektrum vorliegen. [...]
Vollständige Meldung siehe: TU-Homepage