Digital logistics twin of the rolling mill of AG der Dillinger Hüttenwerke
A growing variety of products combined with steadily increasing quality requirements in heavy plate production are leading to an ever greater vertical range of manufacture and more complex branching of plates in the rolling mill and in quenching and tempering, while at the same time batch sizes are decreasing. To enable this highly individualized production with high throughput, Dillinger has identified efficient production planning and control as one of the essential future fields for competitive production.
At its rolling mills in Dillingen and Dunkirk, the Dillinger Group produces around 2 million tonnes of heavy plate per year, which is processed into offshore wind turbine towers, drilling platform bases, bridge girders, dredging shovels, pressure vessels, pipelines, etc. As demand in the individual segments is subject to strong fluctuations or even on a project basis, it is important that production is economically feasible under constantly varying boundary conditions or for widely varying product mixes.
Cost-efficient production planning is not possible in a rolling mill with over 1,500 possible production steps and approx. 75 processing stations as well as the most varied means of transport between the stations on the basis of simple rules. In the project "Digital Logistics Twin", all relevant production steps and their interdependencies were therefore mapped in the form of a digital twin. Not only the operating times at the machines were taken into account, but also available storage space, dependencies due to transport and the costs incurred at the respective stations depending on the different product types.

The aim is to be able to use the digital twin as a decision support tool both directly in production and for sales and management. It can be examined whether a certain order at a certain price makes economic sense, in which order certain orders should best be clocked into the plant and in which load situations which possible branches of a product within the production are most sensible. Strategic investment decisions based on the Digital Twin can also be evaluated and bottlenecks can generally be identified.
The inital "Digital Logistics Twin" project was launched in the summer of 2017 and builds on the production data collected in the rolling mill as part of the Industry 4.0 project. The first goal was to determine cost-optimal product mixes. However, since the possibilities of the digital twin are much more far-reaching, a follow-up project was launched in autumn 2022 which addresses more far-reaching optimization issues relating to process optimization in the rolling mill, to weigh up investment decisions and to link production and sales more directly.

A decisive factor in the success of the project is the close intermeshing of the working groups within Clausthal University of Technology with the corresponding specialist departments at Dillinger. This makes it possible to quickly integrate scientific concepts developed in Clausthal into real process and production planning tools, so that the transfer of know-how is effective both immediately and in the long term.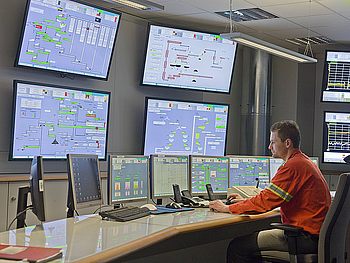 Control room sinter plant, Photo: Uwe Braun, SHS – Stahl-Holding-Saar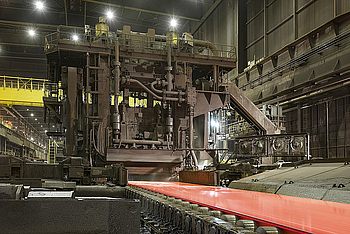 Fertiggerüst at rolling mill Dillingen, Photo: Uwe Braun, SHS – Stahl-Holding-Saar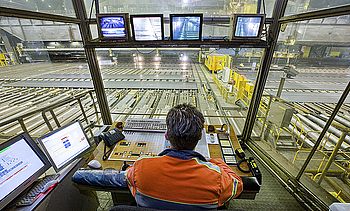 Control stand Thin Sheet Inspection Bed, Photo: Uwe Braun, SHS – Stahl-Holding-Saar